Companies that sell products across all industries need packaging, from small startups to huge corporations. It's not really an option to put most things on a shelf without packaging. What would protect the item from the hands of other shoppers before it finally gets purchased by its new owner? Beyond brick and mortar, think of all the packaging needed to protect items bought online and shipped out of warehouses. E-commerce continues to grow in popularity and there are no signs of that trend stopping anytime soon.
In fact, a lot of Internet-based brands have received a decent amount of criticism in regard to their packaging. With concern about climate change constantly on the rise, consumers have very little patience for the overuse of shipping materials. Many Amazon customers take to social media to complain about orders being unnecessarily split into multiple boxes, which often also results in other fillers being placed in each box to take up space and keep the items ship safe. Basically, when there's a lot of waste, consumers notice. And they don't like it.
Companies are catching on. Amazon continues to make statements about attempting to combat their waste. They even introduced a fully recyclable paper padded mailer that some smaller items are shipped in. Behemoth McDonald's claims its packaging will be 100% renewable and recycled by 2025. Only time will tell, but this is certainly what consumers are asking for.
According to paper manufacturer, Neenah, three out of four Millennials are willing to pay extra for sustainable products. Shoppers, especially the younger ones, are looking for brands that align with sustainability and social causes. As a brand, you can show your environmental culture through your packaging choices.
Sustainable packaging design is defined as designing product packaging with the main purpose of doing as little harm to the environment as possible. One of the societal trends that has resulted in a higher usage of sustainable packaging is the rising concern about irresponsible use of plastic. One solution people seek to this is paper replacements for products and packaging that are traditionally made with plastic.
You may not know this, but good old-fashioned corrugated cardboard is actually an environmentally friendly material, especially when used reasonably. Cardboard is made from organic paper pulp, so boxes are actually over 80% biodegradable. Plus, according to Food Dive, in 2018, 96% of all corrugated produced in the US was successfully recovered for recycling. This statistic is particularly impressive when compared to other packaging materials, considering that 91% of all plastic ever created has not been recycled. Part of why it's so easy to successfully recycle corrugated is because it's not usually produced using dyes or bleaches, unlike other materials. Also, some paper products, including some cardboard, are even made from a percentage of recycled materials instead of completely virgin pulp. The average corrugated box these days actually contains 50% recycled content.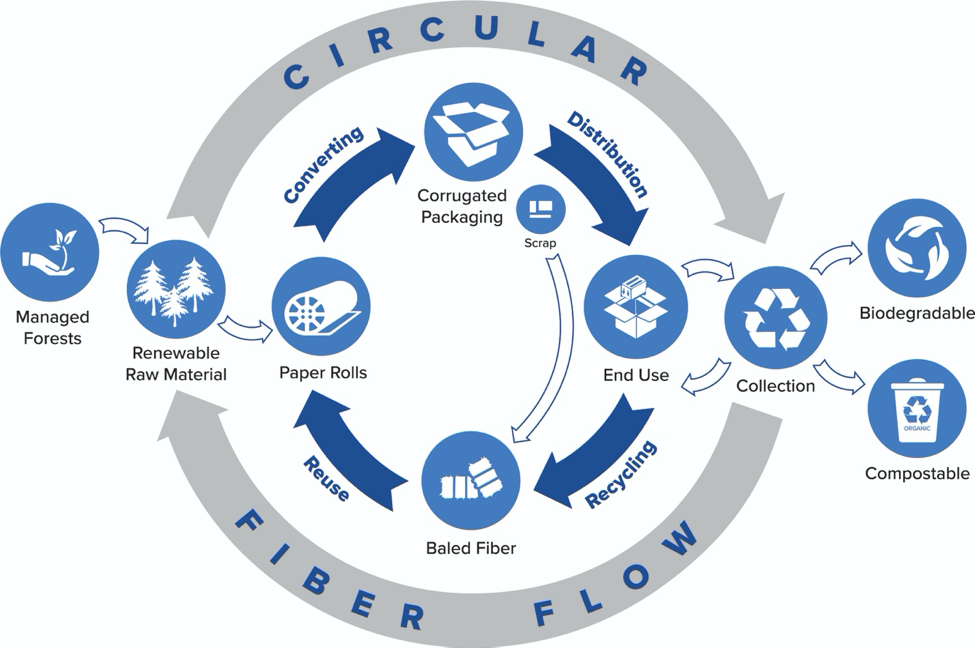 Companies can even go one step further than switching to paper by ensuring that the fibers their packaging is made of was responsibly sourced. This helps to fight against any future deforestation, a process that both destroys ecosystems and releases a lot of greenhouse gases. You can check in with the Forest Stewardship Council for more information. Paper products made with materials from sustainably sourced forests will usually clearly state that they are FSC certified.
On another note, you know that saying: reduce, reuse, recycle? People live by that now more than ever. If you really want to have sustainable packaging, you'll have to go beyond reducing the overall amount you use and the amount of undesirable materials you use. It's also important to make sure your packaging can be easily recycled once the consumer is done with it. In order to be eligible to be recycled at all, post-consumer packaging has to fulfill a long list of requirements, such as separability, cleanliness, labelling and coloration. The fact that efficient recycling is much easier said than done is another great reason to use packaging made of organic materials. This way, if someone chooses not to recycle your box or it isn't segregated correctly and ends up in a landfill, it will at least break down more quickly and easily than other materials.
Plus, you could also design your package for reuse. A classic example is the milk bottle. Remember the days when a milkman would drop their products at your door, pick up your previously used glass bottles, sanitize them and use them again? That old school idea is actually pretty genius when it comes to sustainability!
Want some newer examples? Glass itself is another great alternative to plastic, plus it works really well in unison with cardboard. You can't just throw glass in the mail, at least it's not recommended, but these two materials can be used together to replace plastic with more sustainable packaging.
Then there's clothing brand H&M that came up with a paper shopping bag which can be folded into a functional clothes hanger. This campaign was a great business choice for them because their target audience is Millennials, the group that is pushing for brands to be more environmentally responsible. Sustainable packaging can actually delight recipients and give them a memorable experience. Designing packaging that can be reused as something altogether new (we've even heard of a children's clothing company shipping products in boxes that can also function as dollhouses) actually adds value. Feel free to add text in the design of your packaging that states it's sustainable and how. This might make a millennial buyer choose you over a competitor if they see your two products side-by-side on a shelf.
Fair warning though, if you're looking to use more sustainable packaging, something to consider is that the materials can be harder to acquire and more expensive. For example, stocks we often used for packaging are Tango Coated Cover C1S and C2S. They are FSC certified but are made from virgin materials. There are versions of these stocks that are made with 10% post-consumer content, but it's only available for "making orders." This means you'd have to buy a lot of it, which isn't possible for many small and medium sized businesses that use these stocks as packing options.
Although it's true that a lot of eco-friendly stocks have availability issues, making your best effort to use more sustainable packaging is still incredibly important for the health of our world, and your business for that matter. As Millennials and Generation Z grow older, sustainable packaging will only become more and more expected. There may be prices you have to pay for sustainability, but what price will we all have to pay if brands aren't willing to do their part?