Working Together to Keep Communities Healthy
The organization formerly known as the Visiting Nurse Association of Chittenden and Grand Isle Counties has played a key role in keeping their surrounding communities healthy for 110 years. Their team is made up of nurses, licensed nurse assistants, speech therapists, physical and occupational therapists, wound care specialists, social workers and many more. Visiting nurses are so important because many people prefer receiving healthcare in the familiar and comfortable environment of their own home. This isn't always possible, but studies have actually shown that, in the appropriate medical situations, being cared for at home can promote faster healing. It can even cut healthcare costs for the patients.

In 2018, the Visiting Nurse Association of Chittenden and Grand Isle Counties and the University of Vermont Health Network affiliated themselves with each other. Both organizations agreed that they would be better equipped to continue taking care of their communities if they worked together. This led to increased resources, ideas, and programs. Now, board members, doctors, and staff from both places all collaborate.

Last October, the VNA officially changed its name to the University of Vermont Health Network Home Health and Hospice. Getting to this point was a monumental feat, in a lot of regards, including the fact that they had to entirely rebrand all of their marketing material. To accomplish this, they enlisted SPC to help with their print collateral.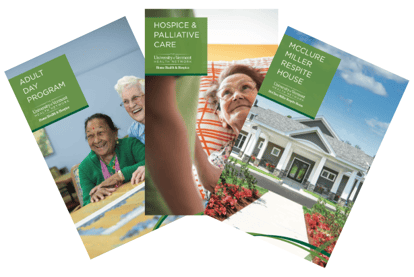 Communications director, Kellie Parks, worked closely with SPC Account Consultant, Roger Vanasse, to get everything in line with the UVM Health Network brand standards, which the former VNA adopted as part of the affiliation. The UVM Health Network brand is very well known and respected in its surrounding communities, so it only made sense for Home Health and Hospice to use their well thought out colors and fonts. Because of the rebranding, there were many pieces of collateral that needed total redesigns. "It was a challenge, but being SPC, we're known for being flexible and being able to meet tight deadlines," Vanasse said, and he also emphasized that Home Health and Hospice were a fun group of people to work with.

Parks was initially worried about embarking on a project of this scope with a printing company that they had never done business with and who is relatively far away from where Home Health and Hospice is located, but she was reassured when she realized how willing Vanasse was to hit the road and meet with them in person on a regular basis.

"SPC goes above and beyond," Parks said. "They did a ton of work on our behalf."

UVM Health Network Home Health and Hospice actually took the situation as an opportunity to really look at their existing print collateral and assess what would work best for them going forward. They now have new admissions packets (which Parks describes as "beautiful"), fewer but improved brochures, and newsletters with the new branding are rolling out this year!

Parks and her team are very happy with how the rebranding went. She commented that it's been a mental adjustment to get used to all the paperwork that heavily featured blue switching to a green color scheme, but at least it's the correct shade of green! She emphasized how important it was to get the colors right on this project and described SPC's finished products as "spot on."

"They were easy to work with and they care about the quality of the products. They will go back and forth with you until they get it right," Parks said. "They're much more than somebody you just send the files to. They find solutions."

SPC greatly appreciates the trust that Kellie Parks and the University of Vermont Health Network Home Health and Hospice showed in providing us with the opportunity to work with them on this project. We look forward to building a long-lasting relationship for the years to come. We also thank her for referring us to the VNA & Hospice of the Southwest Region of Vermont.